Agents
---
Special Agent Charles "Chaz" Villette, Ph.D.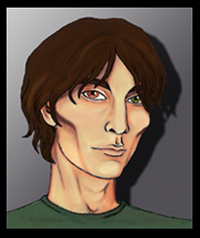 Age 24
The youngest member of the team, Chaz is a pattern recognition specialist, a statistical analyst, and an adrenaline junkie.
His analytical and mathematical intelligence is staggering. His memory, both auditory and visual, is close to perfect. He's not a particularly fast learner, but once he's processed something he often finds better, faster ways to do it the next time. His particular gift is pattern recognition and data manipulation, and his ability to spot trends is nothing short of creepy. His Ph.D.s, earned concurrently, are in statistics and abnormal psychology.
Chaz grew up in a series of foster homes. His mother died of an overdose in their Las Vegas apartment when he was seven, and from that point forward, Chaz survived by pretending to be a little thick, and not very good at anything.
In high school he realized that he could use the brain power he was hiding to get the hell out of Clark County's public schools and into someplace where no one would mind how smart or weird he was. In his junior year, he dropped out of high school, got himself emancipated, and was accepted to Princeton as an early admission with a perfect 1600 on his SATs.
As invested as he is in protecting his emotions, he doesn't carry that over into his physical safety. He used to BASE jump, though he's never admitted it to anyone he works with, and he quit once he figured out that the career he wanted was in law enforcement.
Now, he rock climbs (technical climbing and bouldering), and skydives (when he gets the chance). He loves heights and anything that allows him to pit himself against a challenge that's both intellectual and physical.
He loves his work. He loves working with smart people, and the puzzle-solving part, and the part where he saves lives. As soon as he realized he could join the BAU, he didn't want anything else. After growing up helpless and weird and troubled, now he gets to be a hero.
He's mixed-race, though it's impossible to tell which ones. Classic Creole: there's probably Scots-Irish, Cherokee or Caddo, Spanish, African, and Cajun French in Chaz's background,. His hair is dark brown and wavy. His right eye is brown; the left is hazel. He's very tall--six-four, though he stoops--and very thin, and looks as if someone has miscalculated his aspect ratio. But his athleticism has given him surprising strength and endurance; he may look fragile, but bouldering is a power sport.
He passed the combat requirements at Quantico, but Brady, Lau, and Gates have appointed themselves to make him more than barely competent. So far, it's not really taking, but Chaz's painfully-disguised crush on Lau means he's always willing to show up and let her hit him.
His best friends in the unit are Worth and Gates, with whom he has a relationship best described as sibling harassment, with movie nights and clubbing.