Agents
---
Special Agent Nicolette Lau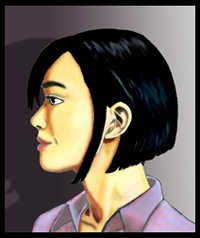 Age 29
Media and public liaison. Extraordinarily good liar/bluffer ("Inscrutable Oriental," she says, with the world's straightest face.) She's from an influential Chinese-American family in L.A. Growing up with three brothers made her competitive as hell. Her dad and brothers went into the Air Force, but Lau majored in Communications at UCLA, with a minor in Psych. She wanted to be an actress until partway through college. She's outdoorsy, active--snowboard, diving, shooting sports, boxing. She loves risk and excitement. She's ridden every big roller coaster in the U.S.--it's one of her hobbies.
A high school pal in the FBI encouraged Lau to apply. Her performance at Quantico was brilliant. She was brought in to the BAU, and eventually discovered Shadow Unit, and realized her skills were a perfect match for the job. Not to mention that Shadow Unit sounded like the biggest damned adventure anyone could have anywhere, let alone get paid to have.
Lau is the other rein in the Bureau's harness on Reyes. She keeps the anomaly's existence quiet, while Reyes thinks that some information should be made available. But she and Falkner recognize that Reyes is not a good judge of what the public should know; Lau answers to people above Reyes, though he doesn't know that.
She's a gamer--she likes physical games, computer games, shooter games, multi-player on-line role playing games. She kickboxes, and despite her size, she's one of the team's unarmed combat experts. She's also a sharp dresser, elegant and edgy; her black hair is cut in an asymmetrical spiky bob, and her clothes are sleek and stylish. She totally understands manipulating by exterior cues, and also likes to look good.
Lau and Brady are buds; they go out dancing, and have a lot of the same kind of physical pleasures and animal grace. They're the beauties of the department, and tease each other about it. She has some of Brady's attitude toward Chaz; he's her little brother, and she teases him. She tries not to notice that he has a crush on her.